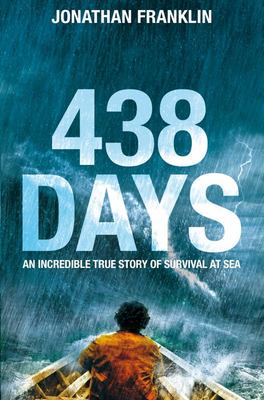 $19.99
AUD
Category: Biography & Memoir
On 17th November, 2012, Salvador Alvarenga left the coast of Mexico for a two-day fishing trip. A vicious storm killed his engine and the current dragged his boat out to sea. The storm picked up and carried him West, deeper into the heart of the Pacific Ocean. Alvarenga would not touch solid ground agai n for 14 months. When he was washed ashore on January 30th, 2014, he had drifted over 9,000 miles. Three dozen cruise ships and container vessels passed nearby. Not one stopped for the stranded fisherman. He considered suicide on multiple occasions - including offering himself up to a pack of circling sharks. But Alvarenga developed a method of survival that kept his body and mind intact long enough for the Pacific Ocean to spit him up onto a remote palm-studded island. Crawling ashore, he was saved by a local couple living in their own private castaway paradise. Based on dozens of hours of interviews with Alvarenga and his colleagues, search and rescue officials, the medical team that saved his life and the remote islanders who nursed him back to normality, this is an epic tale of survival and one man's incredible story of beating the ultimate odds. ...Show more
$32.99
AUD
Category: Biography & Memoir
The incredible life of an astonishing athlete and now disability advocate - fully updated to include Wimbledon and French Open wins and moreDylan Alcott has never let his disability get in the way of what he wanted to achieve.His family treated him no differently to any other kid, and it was the best th ing they ever did. Growing up, Dylan always had a positive attitude to life. So when he discovered sport, he'd have a go at anything and could always be found at the centre of the action, giving his best and playing to win. Then he tried wheelchair basketball and tennis and was hooked.Fast forward ten years or so, and the now three-time Paralympic gold medallist, Order of Australia recipient, world No 1 tennis champion, Logie winner and philanthropist combines elite sport with a love for music (he's a radio announcer and host of music show The Set and is famous for his crowd surfing). But Dylan's greatest passion is changing the way those with disabilities are perceived, and to inspire young people - whether they have disabilities or are able-bodied - to achieve their dreams. It's a passion that drives him every day of his life.In this fully updated edition of Able, which includes stories about his latest achievements, including Wimbledon and the French Open, Dylan shares his story. It's the tale of someone who's proud of who he is, who has a go, does everything with heart and soul, who always sees the upside and never takes himself too seriously. As inspiring, honest and funny as its author, Able proves that for every one thing you can't do, there are 10,000 other things that you can. ...Show more
$22.99
AUD
Category: Biography & Memoir
Flea, the iconic bassist and co-founder, alongside Anthony Kiedis, of the immortal Red Hot Chili Peppers finally tells his fascinating origin story, complete with all the dizzying highs and the gutter lows you'd expect from an LA street rat turned world-famous rock star. Michael Peter Balzary was born i n Melbourne, Australia, on October 16, 1962. His more famous stage name, Flea, and his wild ride as the renowned bass player for the Red Hot Chili Peppers was in a far and distant future. Little Michael from Oz moved with his very conservative, very normal family to Westchester, New York, where life as he knew it was soon turned upside down. His parents split up and he and his sister moved into the home of his mother's free-wheeling, jazz musician boyfriend - trading in rules, stability, and barbecues for bohemian values, wildness, and Sunday afternoon jazz parties where booze, weed, and music flowed in equal measure. There began Michael's life-long journey to channel all the frustration, loneliness, love, and joy he felt into incredible rhythm. When Michael's family moved to Los Angeles in 1972, his home situation was rockier than ever. He sought out a sense of belonging elsewhere, spending most of his days partying, playing basketball, and committing petty crimes. At Fairfax High School, he met another social outcast, Anthony Kiedis, who quickly became his soul brother, the yin to his yang, his partner in mischief. Michael joined some bands, fell in love with performing, and honed his skills. But it wasn't until the night when Anthony, excited after catching a Grandmaster Flash concert, suggested they start their own band that he is handed the magic key to the cosmic kingdom. Acid for the Children is as raw, entertaining and wildly unpredictable as its author. It's both a tenderly evocative coming of age story and a raucous love letter to the power of music and creativity ...Show more
$16.99
AUD
Category: Biography & Memoir | Reading Level: good
Anne Frank: The Diary of a Young Girl is not just a true story but also a piece of history. Written by Anne Frank for herself, at the age of 13, the diary contains candid and intimate details of Anne's thoughts and feelings during the two years of the Second World War she and her family and friends stay ed hidden. Anne and her family were eventually arrested and sent to the concentration camps, but her diary remains a testament of youthful experiences in times of war. ...Show more
$34.99
AUD
Category: Biography & Memoir
When Kaya Wilson came out to his parents as transgender, a year after a near-death surfing accident and just weeks before his father's death, he was met with a startling family history of concealed queerness and shame.   As Beautiful As Any Other weaves this legacy together with intimate examinations o f the forces that have shaped Wilson's life, and his body: vulnerability and power, grief and trauma, science and narrative.   In this powerful and lyrical memoir, Wilson makes a case for the strength we find when we confront the complexities of our identity with compassion. As Beautiful As Any Other is a trailblazing debut of remarkable beauty, insight and candour. ...Show more
Becoming
by Michelle Obama
$45.00
AUD
$49.99
(9% off)
Category: Biography & Memoir | Reading Level: very good
An intimate, powerful, and inspiring memoir by the former First Lady of the United States   In a life filled with meaning and accomplishment, Michelle Obama has emerged as one of the most iconic and compelling women of our era. As First Lady of the United States of America--the first African American to serve in that role--she helped create the most welcoming and inclusive White House in history, while also establishing herself as a powerful advocate for women and girls in the U.S. and around the world, dramatically changing the ways that families pursue healthier and more active lives, and standing with her husband as he led America through some of its most harrowing moments. Along the way, she showed us a few dance moves, crushed Carpool Karaoke, and raised two down-to-earth daughters under an unforgiving media glare.   In her memoir, a work of deep reflection and mesmerizing storytelling, Michelle Obama invites readers into her world, chronicling the experiences that have shaped her--from her childhood on the South Side of Chicago to her years as an executive balancing the demands of motherhood and work, to her time spent at the world's most famous address. With unerring honesty and lively wit, she describes her triumphs and her disappointments, both public and private, telling her full story as she has lived it--in her own words and on her own terms. Warm, wise, and revelatory, Becoming is the deeply personal reckoning of a woman of soul and substance who has steadily defied expectations--and whose story inspires us to do the same. ...Show more
$32.99
AUD
Category: Biography & Memoir | Reading Level: 3 Biography
The brave and inspiring memoir of one of Australian Swimming's Golden Girls, whose extraordinary achievements masked her private battles with anxiety and depression.
$17.99
AUD
Category: Biography & Memoir
When Cathy Freeman won gold at the Sydney Olympics, she became a champion, everyone loved her and everyone knew her. But she wasn't always famous. Ages 9+.
$32.99
AUD
Category: Biography & Memoir
Lech Blaine was just seventeen when he was in a crash that killed his best friends and changed his life. On an evening in 2009, seven teenage boys piled into a car to go to a party. They never arrived. The driver - who was not drunk or high - made a routine error and then overcorrected. The vehicle flew off the road. One passenger died on impact. Others were flung from the car. Lech walked away uninjured. In the aftermath, two more died in hospital and one was left disabled, in an incident that convulsed their rural community. Crippled by guilt, Lech turned to social media, cultivating a persona as the ultimate 'grateful survivor'. Over time, he spiralled into risk-taking and depression. His public bravado fell away as he tried to accept how an accident - one wretched error of youth and inexperience - had changed the trajectory of so many lives. How do we grieve in an age of social media? How does tragedy shape a community? And how does a boy on the cusp of manhood develop a sense of self when his world has exploded? This stunning memoir pulls no punches. It marks Lech Blaine as a writer to watch.   ...Show more
$22.99
AUD
Category: Biography & Memoir
The definitive biography of Cristiano Ronaldo, named Football Book of the Year at the Cross Sports Book Awards 2016 Fully updated to include the 2017-18 season and Ronaldo's transfer to Juventus Cristiano Ronaldo is one of the greatest footballers of all time, a dream he pursued from the age of just t welve when he left his humble origins on Madeira behind. It wasn't long before he had the biggest clubs in Europe knocking on his door, but it was Manchester United who won the race for his signature. Under the tutelage of Sir Alex Ferguson, Ronaldo developed into the complete footballer and athlete, winning three league titles and a Champions League along the way. He then became the biggest galáctico of them all when he transferred to Real Madrid for a record-breaking fee. Unprecedented success in the Champions League and a record-equalling five Ballons d'Or followed, before his sensational move to Juventus in the summer of 2018. Guillem Balagué, respected football journalist and expert on the Spanish game, provides the definitive account of a twenty-first-century footballing icon. ...Show more
$17.99
AUD
Category: Biography & Memoir
A beautiful new limited edition paperback of Eat Pray Love, published as part of the Bloomsbury Modern Classics list To travel is worth any cost or sacrifice. I am loyal and constant in my love for travel, as I have not always been loyal and constant in my other loves. Newly divorced journalist Elizabet h Gilbert is struggling to carve out an authentic identity in New York. Desperate to reinvigorate her life and connect with the world around her, she embarks on a modern-day pilgrimage. With warmth and humour, Gilbert chronicles a journey from Italy to India and, finally, to Bali. Each country serves as a vivid backdrop for self-exploration as she comes to terms with the choices that have hitherto defined her life, and begins to rediscover herself. ...Show more