Browse by category
---
Trading Hours
Mon - Fri: 9:30am to 4:30pm
Sat: 9:00am to 3:00pm
Sun: 9:00am to 1:00pm
Easter Trading Hours
Good Friday: 9:00am-1:00pm
Easter Saturday: 9:00am to 3:00pm
Easter Sunday: CLOSED
Easter Monday: 9:00am to 1:00pm
April Book Club - NIGHT
Friday 16th April, 7:30-9pm
Join us for April Book Club where we will be having a special mystery-themed book club. It is free to join & members receive 10% off book club picks. RSVP by clicking 'going' on the FB page or by giving us a call on (07) 3393 5130. Please note: April Book Club usually meets the second Friday of the month, however we have rescheduled to a date after the mask mandate ends.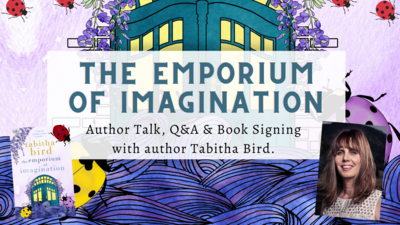 $0.00
AUD
Category: Event Tickets
Tabitha Bird - The Emporium of Imagination April 22nd, 6:30pmCedar & Pine(Please note: When booking a ticket online, please select "add to cart", then 'phone me' as a payment option to bypass including credit card details. You will need to sign up for a customer loyalty account for us to take your c ontact details (we do not use your information for anything other than contacting you for the event), but if you do not wish to sign up for an account you can also call and book in on (07) 3393 5130.)Please join us to celebrate the release of Tabitha Bird's newest book, The Emporium of Imagination, at Cedar & Pine Bar with a meet-and-greet, author talk, Q&A and book signing. Tabitha is a former baysider now living in Boonah.  This is a free event, however bookings are essential. Your booking is an e-ticket only and names will be added to the door list; please be sure to include your name and contact details. Alternatively, you can call & book a space on (07) 3393 5130.  Cedar & Pine is located at 139 Bay Terrace, Wynnum. The event will take place in the beer garden at the back of the venue. Guests will be able to purchase food and drinks from the bar. The Emporium of Imagination is $32.99 (RRP) and copies of the book and Tabitha's first book, A Lifetime of Impossible Days (RRP $19.99) will be available to purchase and have signed on the night.  ABOUT THE BOOK From the author of A Lifetime of Impossible Days (winner of the Courier-Mail People's Choice QLD Book of the Year Award) comes this beautiful and uplifting story, that will make you laugh and make you cry.Welcome to The Emporium of Imagination, a most unusual shop that travels the world offering vintage gifts to repair broken dreams and extraordinary phones to contact lost loved ones.But, on arrival in the tiny township of Boonah, the store's long-time custodian, Earlatidge Hubert Umbray, makes a shocking realisation. He is dying . . .The clock is now ticking to find his replacement, because the people of Boonah are clearly in need of some restorative magic.Like Enoch Rayne - a heartbroken ten-year-old boy mourning the loss of his father, while nurturing a guilty secret.Like Ann Harlow, who has come to the town to be close to her dying grandmother. Though it's Enoch's father who dominates her thoughts - and regrets . . .Even Earlatidge in his final days will experience the store as never before - and have the chance to face up to his own tragedy . . . ABOUT THE AUTHOR Tabitha Bird is a writer and poet who lives and works in the rural township of Boonah, Queensland. By day Tabitha may be found painting, working on her next book or with her husband, three beautiful boys and Chihuahua. She is the author of A Lifetime of Impossible Days and The Emporium of Imagination. ...Show more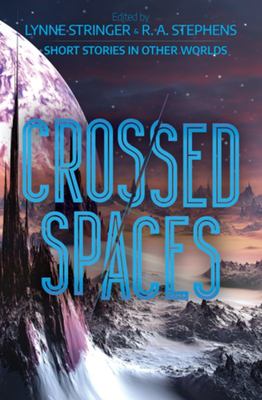 $16.99
AUD
Category: Fantasy & Sci Fi
A handsome clockmaker fixes a broken time machine to help a cursed lady. A young scientist betrays his people to protect an alien species. A girl bonds with her new technological helper and sees in him a personality and a soul. A boy finds his whole life changing when his best friend writes in a mysteri ous notebook. A crew aboard a settlement spaceship discover that sleeping passengers have gone missing.Come on a journey of exploration with aliens, spacecrafts, bewildering technology and even ghosts. There's friendship, strong families and romance. In these seventeen stories humanity is pushed to its limit and forced to question what is most important in life.Lynne Stringer and RA Stephens bring together a collection of fantasy and science-fiction stories based in worlds that are not quite our own.Authors include Penny Jaye, Emily Larkin, Janeen Samuel, Stephanie Martin, Catriona McKeown, Rosanne Hawke and many more. ...Show more
What We've Been Up To On Instagram