$19.99
AUD
Category: Fantasy & Sci Fi | Series: A Court of Thorns and Roses
In this companion tale to the bestselling A Court of Thorns and Roses series, Feyre, Rhys and their friends are working to rebuild the Night Court and the vastly changed world beyond after the events of A Court of Wings and Ruin. But Winter Solstice is finally near, and with it a hard-earned reprieve. Y et even the festive atmosphere can't keep the shadows of the past from looming. As Feyre navigates her first Winter Solstice as High Lady, she finds that those dearest to her have more wounds than she anticipated o scars that will have a far-reaching impact on the future of their court. Sarah J. Maas is a global #1 bestselling author. Her books have sold more than nine million copies and been translated into 37 languages. Discover the sweeping romantic fantasy for yourself. ...Show more
$29.99
AUD
Category: Fantasy & Sci Fi | Series: A Court of Thorns and Roses
Sarah J. Maas's sexy, richly imagined A Court of Thorns and Roses series continues with the journey of Feyre's fiery sister, Nesta.Nesta Archeron has always been prickly – proud, swift to anger and slow to forgive. And since the war – since being made High Fae against her will – she's struggled to forge t the horrors she endured and find a place for herself within the strange and deadly Night Court. The person who ignites her temper more than any other is Cassian, the battle-scarred, winged warrior who is there at Nesta's every turn. But her temper isn't the only thing Cassian ignites. And when they are forced to train in battle together, sparks become flame. As the threat of war casts its shadow over them once again, Nesta and Cassian must fight monsters from within and without if they are to stand a chance of halting the enemies of their court. But the ultimate risk will be searching for acceptance – and healing – in each other's arms. ...Show more
$19.99
AUD
Category: Fantasy & Sci Fi | Series: A Court of Thorns and Roses
Feyre has returned to the Spring Court, determined to gather information on Tamlin's manoeuvrings and the invading king threatening to bring her land to its knees. But to do so she must play a deadly game of deceit o and one slip may spell doom not only for Feyre, but for her world as well. As war bears down upon them all, Feyre must decide who to trust amongst the dazzling and lethal High Lords and hunt for allies in unexpected places. And her heart will face the ultimate test as she and her mate are forced to question whether they can truly trust each other. Sarah J. Maas is a global #1 bestselling author. Her books have sold more than nine million copies and been translated into 37 languages. Discover the sweeping romantic fantasy for yourself. ...Show more
$19.99
AUD
Category: Fantasy & Sci Fi | Series: Riftwar Saga Ser.
The whole of the magnificent Riftwar Cycle by bestselling author Raymond E. Feist, master of magic and adventure, now available in ebook As Prince Arutha and his companions rally their forces for the final battle with an ancient and mysterious evil, the dread necromancer Marcos the Black has once again unleashed his dark sorcerery. Now the fate of two worlds will be decided in a titanic struggle beneath the walls of Sethanon, as the link between Kelewan and Midkemia is revived. A Darkness at Sethanon concludes Raymond E. Feist's bestselling Riftwar Saga. ...Show more
$16.99
AUD
Category: Fantasy & Sci Fi | Series: The\Cursebreaker Ser.
In the sequel to New York Times bestselling A Curse So Dark and Lonely, Brigid Kemmerer returns to the world of Emberfall in a lush fantasy where friends become foes and love blooms in the darkest of places.Find the heir, win the crown.The curse is finally broken, but Prince Rhen of Emberfall faces dark er troubles still. Rumors circulate that he is not the true heir and that forbidden magic has been unleashed in Emberfall. Although Rhen has Harper by his side, his guardsman Grey is missing, leaving more questions than answers. Win the crown, save the kingdom. Grey may be the heir, but he doesn't want anyone to know his secret. On the run since he destroyed Lilith, he has no desire to challenge Rhen--until Karis Luran once again threatens to take Emberfall by force. Her own daughter Lia Mara sees the flaws in her mother's violent plan, but can she convince Grey to stand against Rhen, even for the good of Emberfall?The heart-pounding, compulsively readable saga continues as loyalties are tested and new love blooms in a kingdom on the brink of war. ...Show more
$19.99
AUD
Category: Fantasy & Sci Fi | Series: The Medoran Chronicles
With just one step, sixteen-year-old Alexandra Jennings's world changes - literally. Dreading her first day at a new school, Alex is stunned when she walks through a doorway and finds herself stranded in Medora, a fantasy world full of impossibilities. Desperate to return home, she learns that only a ma n named Professor Marselle can help her... but he's missing. While waiting for him to reappear, Alex attends Akarnae Academy, Medora's boarding school for teenagers with extraordinary gifts. She soon starts to enjoy her bizarre new world and the friends who embrace her as one of their own, but strange things are happening at Akarnae, and Alex can't ignore her fear that something unexpected... something sinister... is looming. An unwilling pawn in a deadly game, Alex's shoulders bear the crushing weight of an entire race's survival. Only she can save the Medorans, but what if doing so prevents her from ever returning home? Will Alex risk her entire world - and maybe even her life - to save Medora? ...Show more
$22.99
AUD
Category: Fantasy & Sci Fi | Series: The\Obernewtyn Chronicles
As head of Obernewtyn's Farseeker guild, Elspeth Gordie must travel to the lowlands to seal an alliance between Obernewtyn and the rebel forces that oppose the totalitarian Council. Yet her dreams call to her with an altogether different purpose: Elspeth must destroy what remains of the weapons that bro ught unimaginable chaos, death, and mutation to her world. Leaving the relative safety of the mountains, Elspeth embarks on a journey that takes her across the sea and into the heart of the mysterious desert region of Sador. ...Show more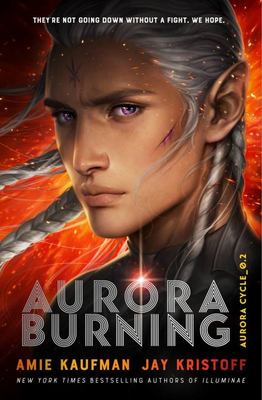 $19.99
AUD
Category: Fantasy & Sci Fi | Series: Aurora Cycle
Our heroes are back. Kind of. First, the bad news: an ancient evil - you know, your standard consume-all-life-in-the-galaxy deal - is about to be unleashed. The good news? Squad 312 is standing by to save the day. They've just got to take care of a few small distractions first. Like the clan of gremps w ho'd like to rearrange their favourite faces. And the cadre of illegit GIA agents with creepy flowers where their eyes used to be, who'll stop at nothing to get their hands on Auri. Then there's Kal's long-lost sister, who's not exactly happy to see her baby brother, and has a Syldrathi army at her back. With half the known galaxy on their tails, Squad 312 has never felt so wanted. When they learn the Hadfield has been found, it's time to come out of hiding. Two centuries ago the colony ship vanished, leaving Auri as its sole survivor. Now, its black box might be what saves them - but time is short, and if Auri can't learn to master her powers as a Trigger, the squad and all their admirers are going to be deader than the Great Ultrasaur of Abraaxis IV. Shocking revelations, bank heists, mysterious gifts, inappropriately tight bodysuits and an epic firefight will determine the fate of the Aurora Legion's most unforgettable heroes - and maybe the rest of the galaxy as well. ...Show more
$19.99
AUD
Category: Fantasy & Sci Fi | Series: The Aurora Cycle | Reading Level: 9 YA
From the New York Times and internationally bestselling authors of The Illuminae Files comes a new science fiction epic . . . The year is 2380, and the graduating cadets of Aurora Academy are being assigned their first missions. Star pupil Tyler Jones is ready to recruit the squad of his dreams, but hi s own boneheaded heroism sees him stuck with the dregs nobody else in the Academy would touch . . . A cocky diplomat with a black belt in sarcasm A sociopath scientist with a fondness for shooting her bunkmates A smart-ass tech-whiz with the galaxy's biggest chip on his shoulder An alien warrior with anger management issues A tomboy pilot who's totally not into him, in case you were wondering. And Ty's squad isn't even his biggest problem--that'd be Aurora Jie-Lin O'Malley, the girl he's just rescued from interdimensional space. Trapped in cryo-sleep for two centuries, Auri is a girl out of time and out of her depth. But she could be the catalyst that starts a war millions of years in the making, and Tyler's squad of losers, discipline-cases and misfits might just be the last hope for the entire galaxy. NOBODY PANIC. ...Show more
$19.99
AUD
Category: Fantasy & Sci Fi | Series: Serpent and Dove
The stakes are higher. The witches are deadlier. And the romance is red-hot. The eagerly anticipated sequel to the New York Times and Indiebound bestseller Serpent & Dove is perfect for fans of Sarah J. Maas. Lou, Reid, Coco, and Ansel are on the run from coven, kingdom, and church--fugitives with nowhere to hide. To survive, they need allies. Strong ones. But as Lou becomes increasingly desperate to save those she loves, she turns to a darker side of magic that may cost Reid the one thing he can't bear to lose. Bound to her always, his vows were clear: where Lou goes, he will go; and where she stays, he will stay. Until death do they part. ...Show more
$19.99
AUD
Category: Fantasy & Sci Fi | Series: The Dreamer Trilogy
The dreamers walk among us . . . and so do the dreamed. Those who dream cannot stop dreaming-they can only try to control it. Those who are dreamed cannot have their own lives-they will sleep forever if their dreamers die. Ronan Lynch is a dreamer. He can pull both curiosities and catastrophes out of hi s dreams and into his compromised reality. Carmen Farooq-Lane is a hunter. Her brother was a dreamer . . . and a killer. She has seen what dreaming can do to a person. And she has seen the damage that dreamers can do. But that is nothing compared to the destruction that is about to be unleashed. . . .   ...Show more
$17.99
AUD
Category: Fantasy & Sci Fi | Series: Caraval Ser.
***The Sunday Times bestseller*** WELCOME TO CARAVAL, WHERE NOTHING IS QUITE WHAT IT SEEMS . . . Scarlett has never left the tiny isle of Trisda, pining from afar for the wonder of Caraval, a once-a-year week-long performance where the audience participates in the show. Caraval is Magic. Mystery. Adv enture. And for Scarlett and her beloved sister Tella it represents freedom and an escape from their ruthless, abusive father. When the sisters' long-awaited invitations to Caraval finally arrive, it seems their dreams have come true. But no sooner have they arrived than Tella vanishes, kidnapped by the show's mastermind organiser, Legend. Scarlett has been told that everything that happens during Caraval is only an elaborate performance. But nonetheless she quickly becomes enmeshed in a dangerous game of love, magic and heartbreak. And real or not, she must find Tella before the game is over, and her sister disappears forever. ****************** 'Impressive, original, wondrous' - USA Today 'Spellbinding' - US Weekly 'Magnificent' Publishers Weekly 'The Hunger Games meets The Night Circus' - Entertainment Weekly 'I lost myself in this world' - Sabaa Tahir 'Beautifully written' - Renée Ahdieh 'Shimmers with magic' - Marie Rutkoski ...Show more