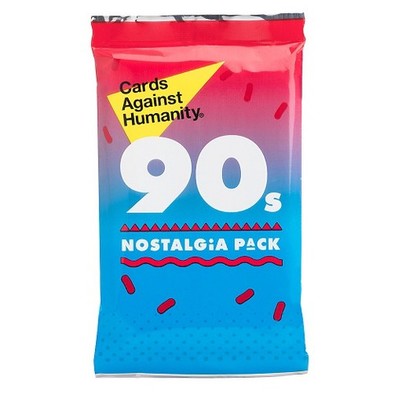 $24.00
AUD
Category: Adult Games
90s Nostalgia Pack Don't have a cow, man! The 90s Nostalgia Pack is a totally tubular Crossfire™ of Freshmaking® jokes. Once you pop, the fun don't stop! 30 cards cards about the 1990s, a popular decade. Too sexy for its shirt.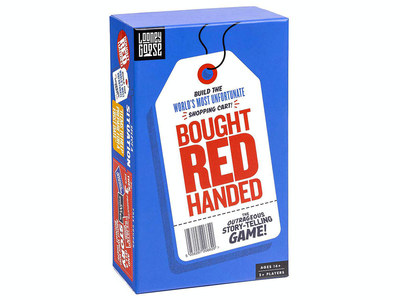 $44.95
AUD
Category: Adult Games
Bought Red Handed. Build the worlds most unfortunate shopping cart in this outrageous story-telling game! Including 400 item cards anything from duct tape to live maggots or glow-in-the-dark underwear players select a situation, such as "Items to prepare for a first date" then battle it out to put toget her the funniest combination of three items for that scenario and tell the funniest story about why they've chosen them! ...Show more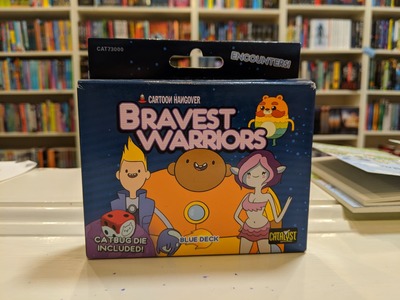 $21.95
AUD
Category: Adult Games
The Space-Time Calliope is vast and dangerous, waiting for courageous heroes to save the day. You're those heroes! Become the Bravest Warriors and battle your way through a myriad of encounters to heroic victory! In the BLUE DECK you play this fast and fun dice and cards game as CHRIS, WALLOW, PLUM or IMPOSSIBEAR! Combine with the Red Deck for up to 8 players! ...Show more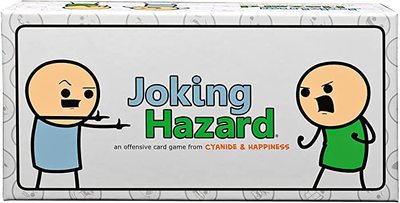 $49.95
AUD
Category: Adult Games
Joking Hazard is an extremely not-for-kids party game from the minds of Cyanide & Happiness, the hit webcomic. Three or more players compete to build funny and terrible comics about friendship, violence, sex, and everything in between. 360 panel cards (including 10 add-your-own-words cards) combine to form millions of awful situations, and sometimes nice ones. High quality cards can be burned for heat after society collapses. ...Show more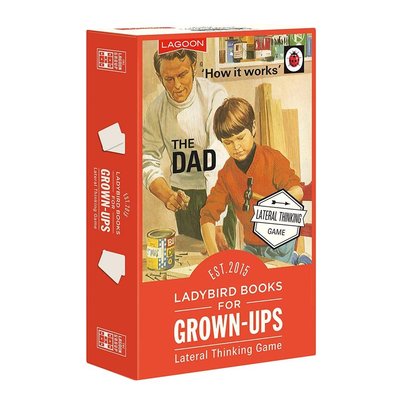 $14.99
AUD
Category: Adult Games
Can you think outside the box to win this great fun Ladybird-themed lateral thinking game, for 2-8 players.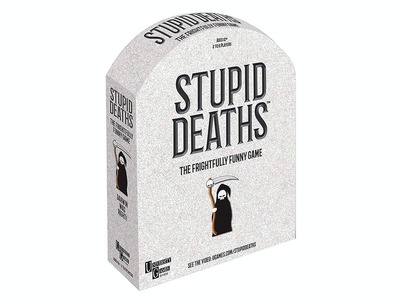 $35.00
AUD
Category: Adult Games
Charles Darwin was right. He proved that only the fittest survive. This game celebrates the stupidest deaths over the centuries. Players race the Grim Reaper around the Game Board before the Grim Reaper catches and kills them. Stupid Deaths is full of dark fun, where players who are dead right win! You 'll die laughing! Contents: · Game Board · 300 Stupid Deaths Cards · 6 Player Pawns · 1 Grim Reaper · 12 True and False Voting Cards · 6 Extra Life Tokens · Instructions · 2 to 6 Players For Ages: 12+ ...Show more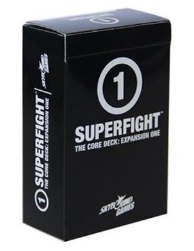 $24.95
AUD
Category: Adult Games
The Core Deck: Expansion One is an expansion to SUPERFIGHT that adds 100 new characters and attributes to the Superfight Core Deck. This expansion contains characters and attributes that everyone will love, with the same broad appeal as the original Superfight Core Deck! New character cards! Including: LITERAL SEAL TEAM SIXINDIANA JONESNASA And new attribute cards like: RIDING A WAR DOLPHINMADE OF KITTENSARMED WITH LIGHTSABER NUNCHUCKS ...Show more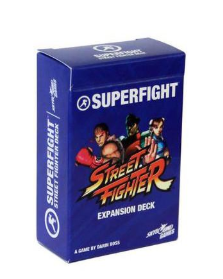 $24.95
AUD
Category: Adult Games
The world's most legendary fighting franchise is now in your Superfight cards. Use these cards on their own or with any other Superfight decks to bring classics like Ryu, Chun-li, and M. Bison off the screen and onto your table for the most epic battles you've ever argued about.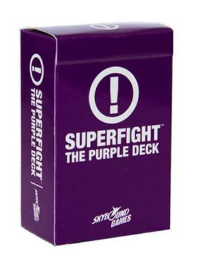 $24.95
AUD
Category: Adult Games
The Purple Deck adds one hundred scenarios to Superfight. From land mines to kitten stampedes to disabling electric devices, this deck will add an extra level of hilarious fun to every round.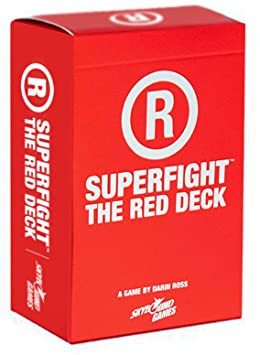 $24.95
AUD
Category: Adult Games
R-RATED SUPER FIGHTS. In this expansion, you get 100 inappropriate cards to add to your Superfight deck, including human centipede, saber-toothed private parts and attributes like 'going through puberty'. SUPERFIGHT is a classic party game from Skybound Games where you argue with your friends over RID ICULOUS fights between RIDICULOUS characters armed with RIDICULOUS attributes. DECK TAILORED FOR ADULTS. This expansion gives you more cards to create ridiculous characters not for the faint of heart, and then argue over who would win in a fight. LET THE JUDGES DECIDE. Convince everyone else at the table why your character would win. The player at the end of the night who wins the most of these fights is the champion! GREAT FOR PARTIES AND GAMES NIGHT. The most fun you'll have arguing! Things can get hilarious when you have to defend your absurd fighters. Awesome to play with friends and office mates at games night, at a party, bachelor night, frat parties or even in the locker room. Choose to have your crazy friend as the judge! Or have 10 judges at the next drinking party! Watch how the game changes with different players. WHAT'S INSIDE THE RED DECK. This deck consists of 100 raunchy cards including characters and abilities to add to your deck to play on their own, or or shuffle these cards with any Superfight deck to add an R-rated, offensive twist to you absurd arguments. Just don't mix it with the Green deck. Seriously, dont. ...Show more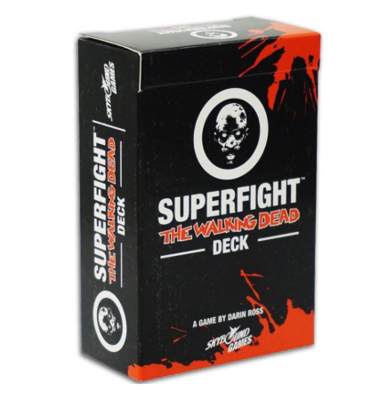 $24.95
AUD
Category: Adult Games
All of your favorite Walking Dead survivors and villains have made their way into Superfight! With all new blood-splattered cards and ten Walking Dead inspired locations and scenarios, this deck will take your fights to the darkest places theyÔve ever been. This deck includes 100 cards and can be played on its own but we highly recommend playing it with the Core Deck. ...Show more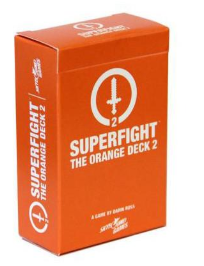 $24.95
AUD
Category: Adult Games
Orange deck 2 boldly goes where no Orange deck has gone before. With 100 new cards from your favorite nerdy books, movies, comics, and TV shows, your deck will be shiny and chrome all the way to Valhalla.